Modern Artistic creative ideas diy reception desk design
RE554
Quick Details:
Item No.:RE554
Size:L3000mm*W800*H1050MM or Customized
Material: Artificial solid surface stone
Color: White or customized
Producing Time: 10 working days.
Optional: color size drawer etc.
Modern Artistic creative ideas diy reception desk design
How to design the reception desk? Whether it is a booth or other tooling occasions, the reception desk often leaves a deep first impression on visitors, so the quality of the design is very important. On this page we will recommend a very creative diy reception desk design case.The picture below is the scene application diagram of this creative reception desk.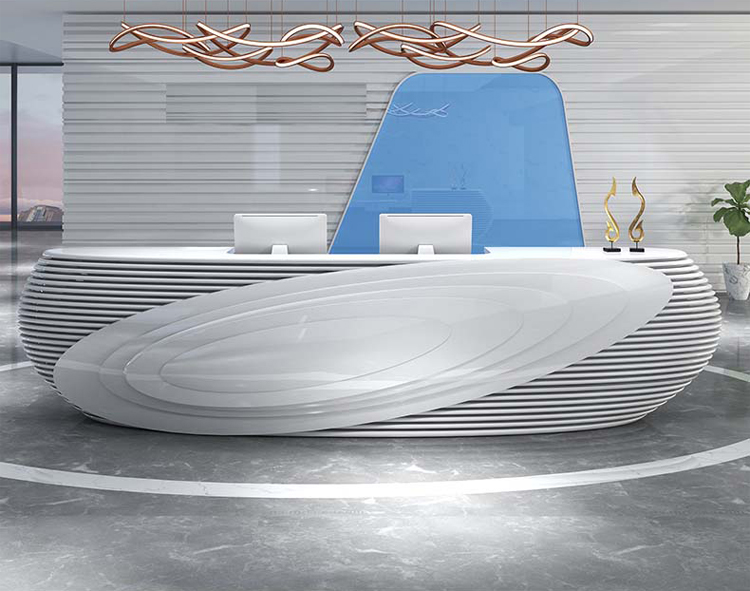 You can`t guess that the design idea of this reception desk is derived from the shape of a football,the oval appearance, coupled with the laminated design, makes this reception desk different from ordinary L-shaped reception desks and straight reception desks.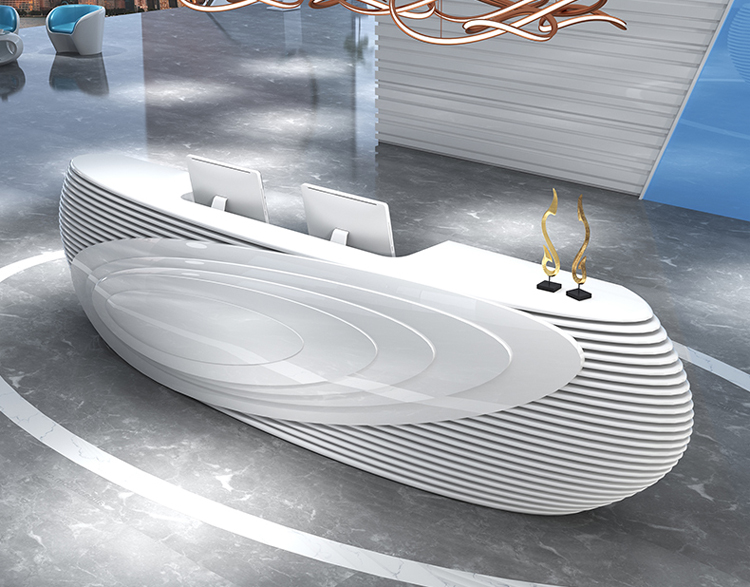 The novel and highly creative modeling language of the common creative reception desk makes the office area more humane and friendly, allowing visitors to enjoy a high-quality office environment. Humanized design, pure and elegant, with simple and stylish collocation, creating an extraordinary feeling for the office environment!
Many people think that the size of the reception desk is of course a bit wider and more stylish, just slightly higher than the height of the table, after all, it is necessary to sit in the office. However, the size of the creative reception desk must be designed according to the actual size of the site and the angle of placement, as well as the corporate culture and the overall design style of the office.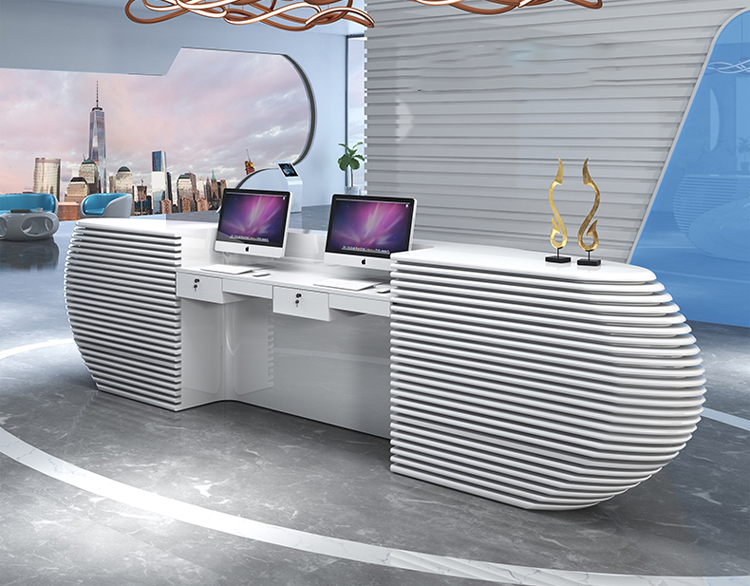 The length of the general creative front desk reception desk has dimensions: 1600, 1800, 2000, 2400, 3000, 3600, 4200mm and other dimensions, the conventional width is 600mm; the height of the reception side is mostly 1000, 1050mm, and the height of the staff side It is 750mm. For example, the conventional sizes are: 1200*742*1050mm, 2400*600*1050mm, 2000*600*1000mm, 1600*600*1050mm.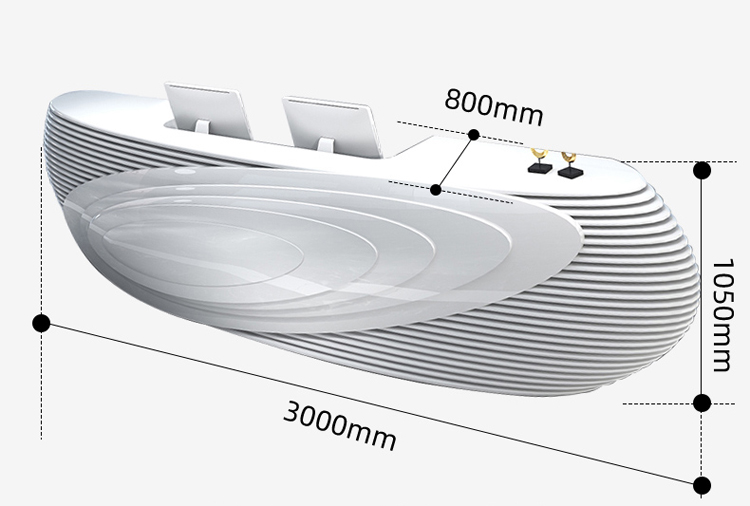 We guarantee your 100% satisfaction on all of our products.
If you have any problem with your purchase, please let us know immediately and give
us a chance to resolve until you are satisfied.
Thanks in advance for your inquiry, thanks!
All the steps you just need to supply your ideas, we will make everything well happen.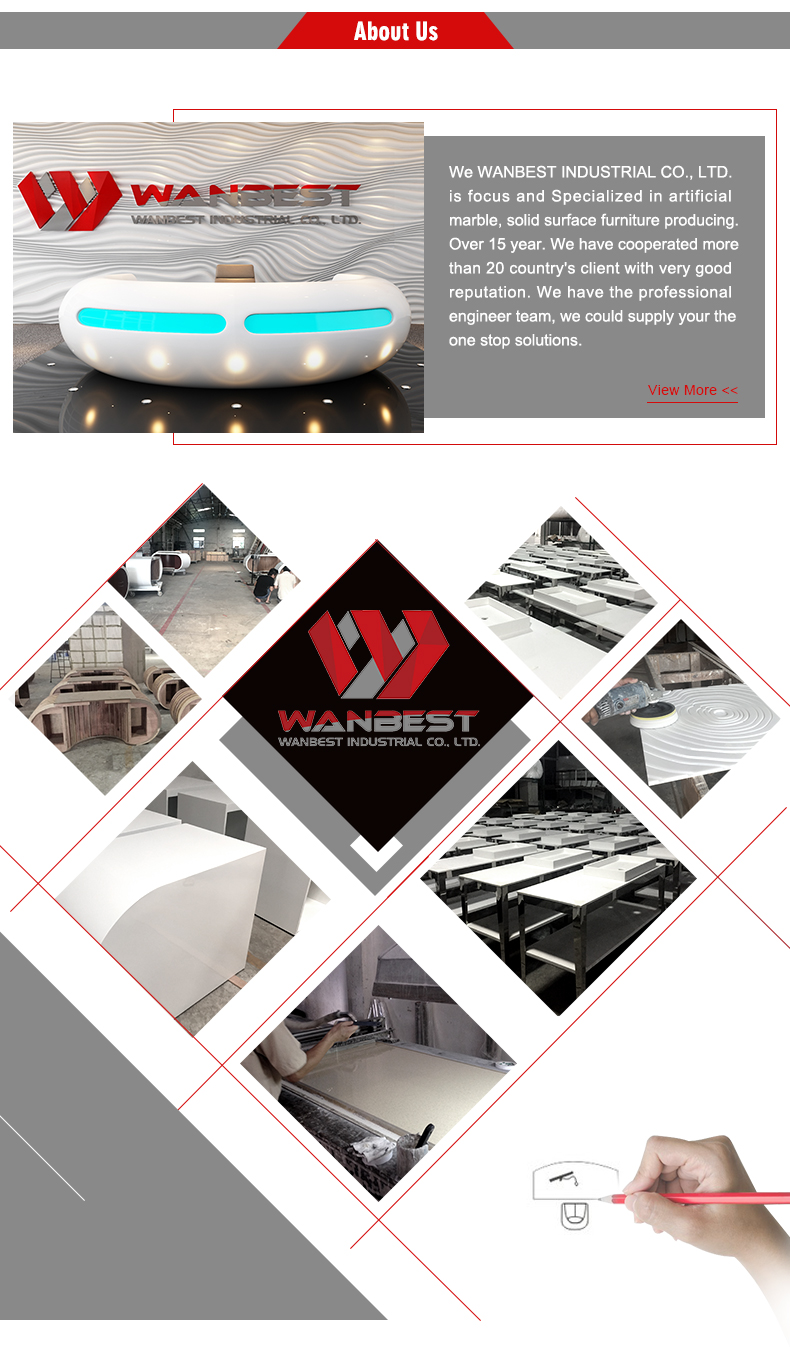 Customer first, heart service has always been our tenet !
Please contact us, if you need, we are here all the time !
Advantage of solid surface furniture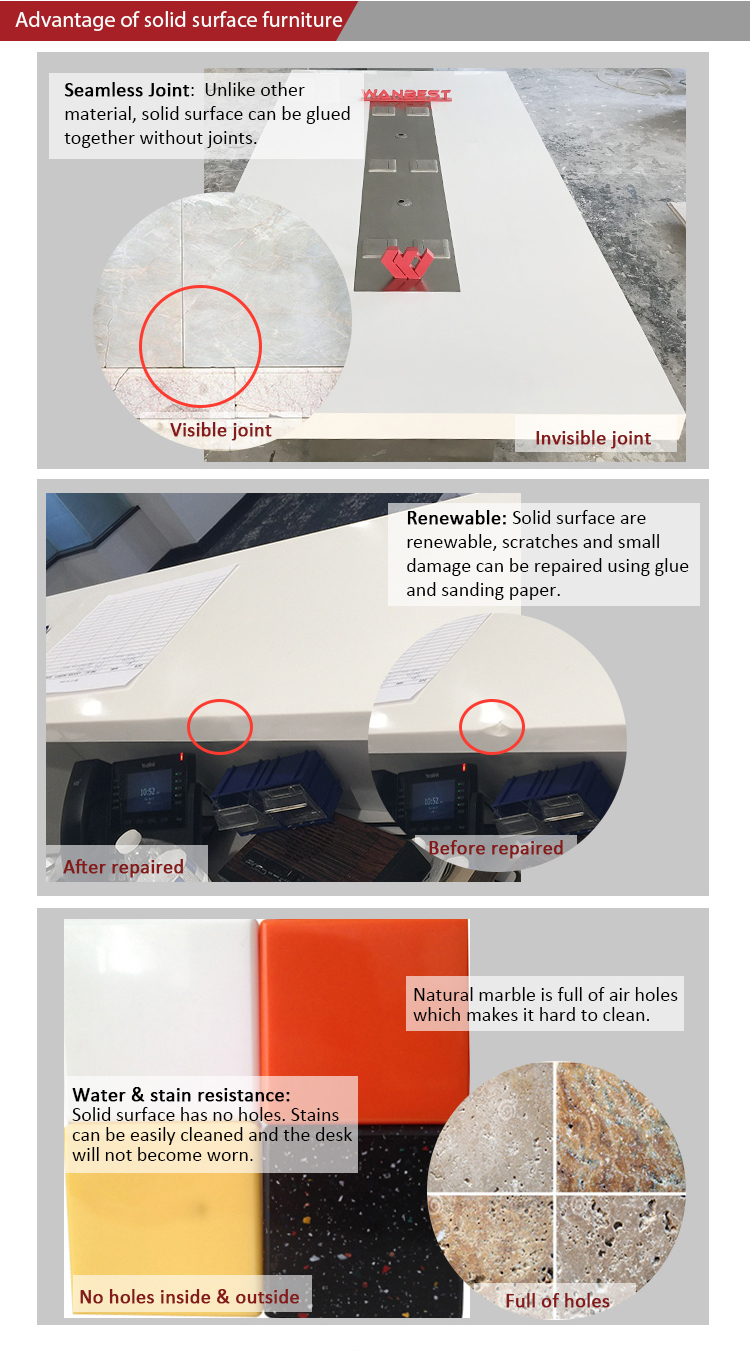 Special Advantages:
1. Corian solid surface material.
2.Custom size and color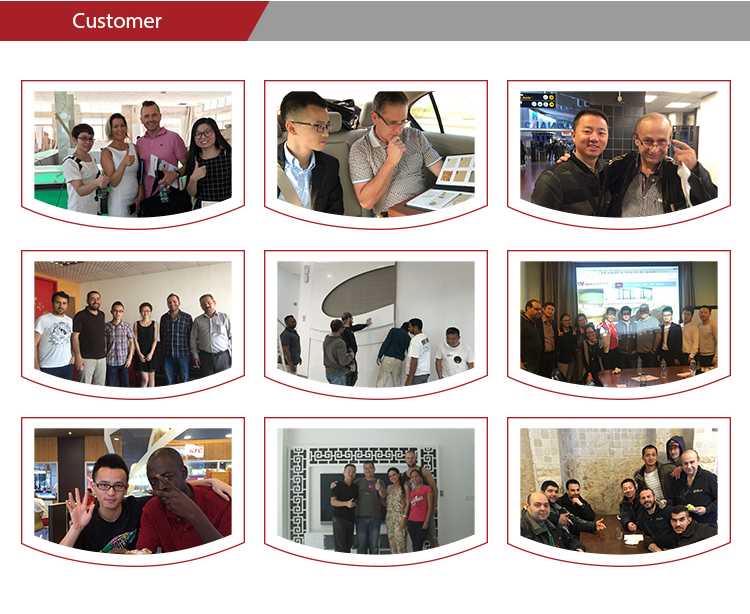 No matter what country you come from, what needs do you have,
I do believe our qualified products and professional service will win your satisfaction!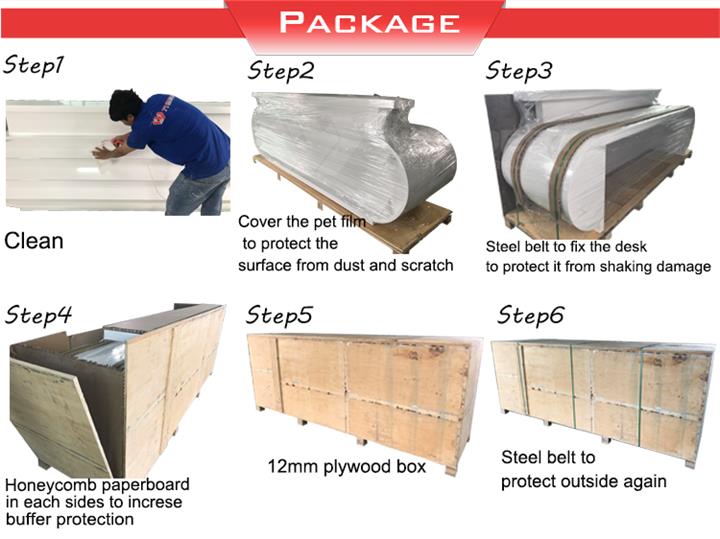 Every link is carefully served to ensure the quality and safety of the products.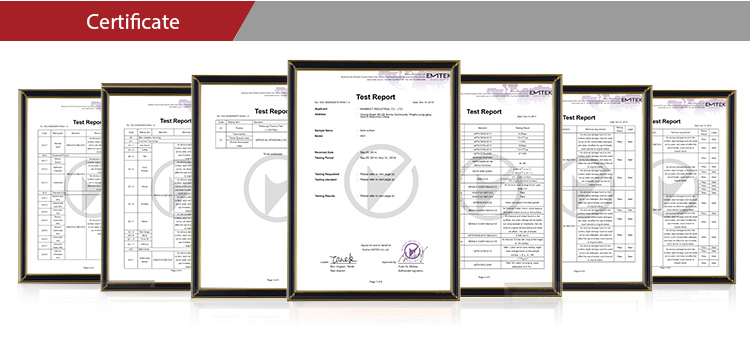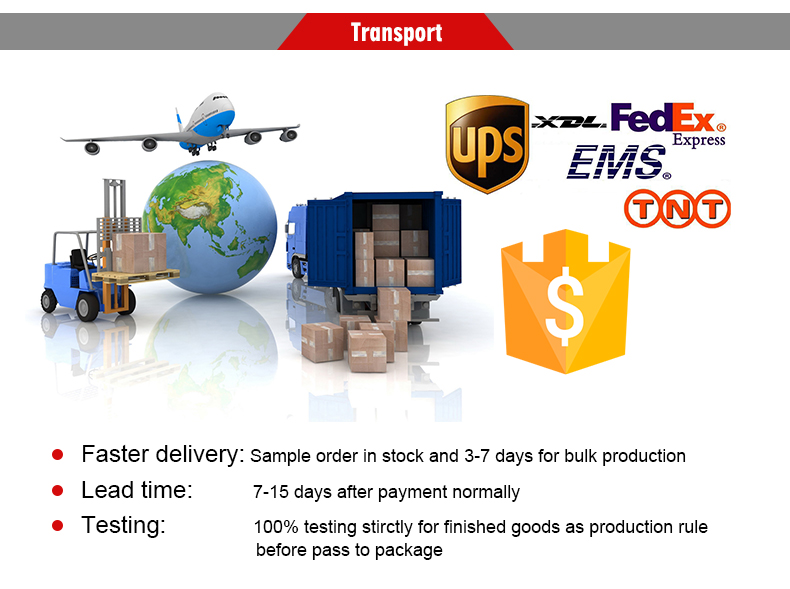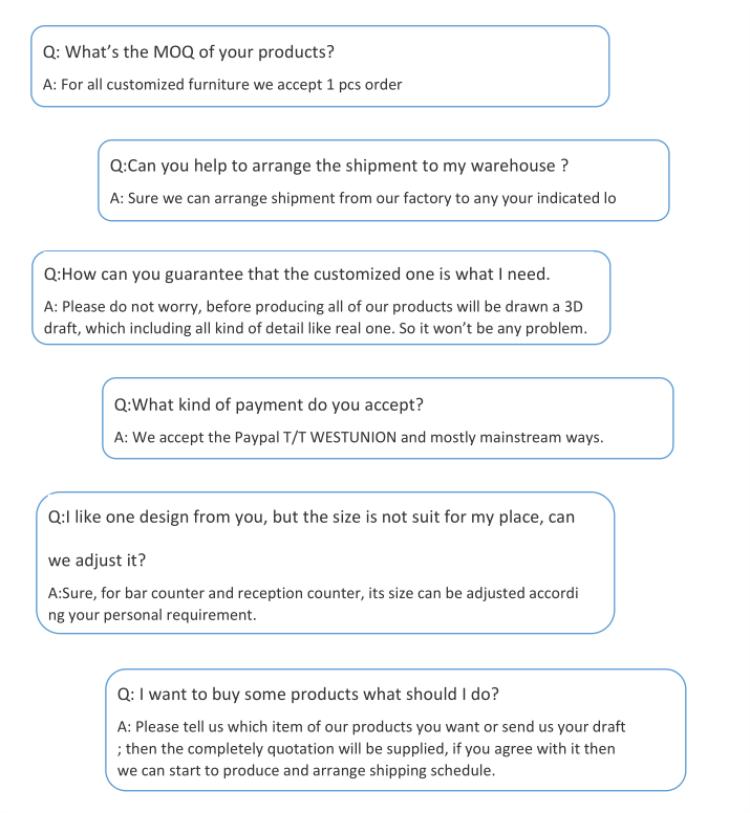 Share Your Idea
Immerse Yourself in Our Latest Stories