Front Modern White Reception Desk
White Color reception desk is the most popular color for reception desk. Mostly in salon office and hospital reception desk desing. The white color will leave the health,enviromental clean imprssion for visitor. Thats why it is the most popular color in front desk design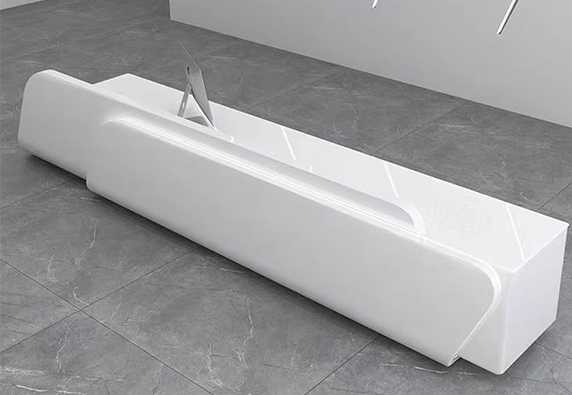 Modern White Reception Desk Corian Marble Popular Color Luxury Material
White reception desks have gained immense popularity due to their timeless elegant and versatility. The color white signifies cleanliness, simplicity, and professionalism, creating an inviting atmosphere that leaves a positive impression on clients and guests. Its adaptability allows for seamless integration into various interior design styles, making it a versatile choice for different settings. White reception desks can visually expand smaller spaces, enhancing their perceived size. They require relatively easy maintenance, and their blank canvas nature enables customization to match specific branding and design preferences.
FAQ
What materials are your reception desks made from?
Most of our white reception desk is made of corian solid surface material.It is one kind of artificial marble.It have better performance than wood with water-proof, more durable and elegant looking.It is also better than nature marble by stain-resistance,easy maintenance more color options and could be any shape. So it is very suitable for white front desk.
What are the available sizes and configurations?
When you looking at the description of each white reception desk design there is a standard size of existing model. Besides, if you could tell us the size of your reception area then we could suggest a suitable size for you.
Can I customize the reception desk to fit my space?
Sure all of our reception counter could be customized design. That will make sure it is 100% suit for your space.
What is the process for ordering a customized reception desk?
1. At first you should pick a design in our website,
2. then we could design the suitable size according your space.
3. After size confirmed then we will quote price for you.
4. If you agree with the price then after 50% deposit paid we will start the production for you.
5. Before production we will supply the 3D drawing for your confirmation.
What is the expected lifespan of your reception desks?
The desk is made by artificial marble so it will last more than 10 years or ever.
Are there options for integrated lighting or signage?
Yes all of our modern white reception desk design could install the led lighting and customized logo in the front.
What is the lead time for delivery?
Generally is need about 10 week for design production and shipping to your address
How does your reception desk assemble or installation
The reception desk will be finished completely in our factory so it don't need any assemble or installation work.
Can you provide samples of materials and finishes?
Yes we could ship a small piece of corian marble with glossy or matte surface to you.It could be shipped by DHL or Fedex within 1 week
What is the warranty for your reception desks?
For normally using 10 years warranty is no problem.
Can you assist with space planning and layout design?
Yes just tell us the size layout of your space our designer will design a suitable size and design for you.
Do you have a showroom where I can see the desks in person?
We are main online sales, if you want to sea any finished products you could come to visit our factory.
Do you offer bundled packages with other office furniture?
Sure we have office desk conference table also.
Where is your factory located.
Our factory is located in Huizhou city Guangdong Province China.
How could you ship these big size marble reception counter ?
At first these desk will be package in a wood crate and we will add steel on the top of package to enhance its strength. It will be shipped by boat the closest sea port of your address. After the boat arrived our cooperated local truck company will pick up it and delivery to your address.