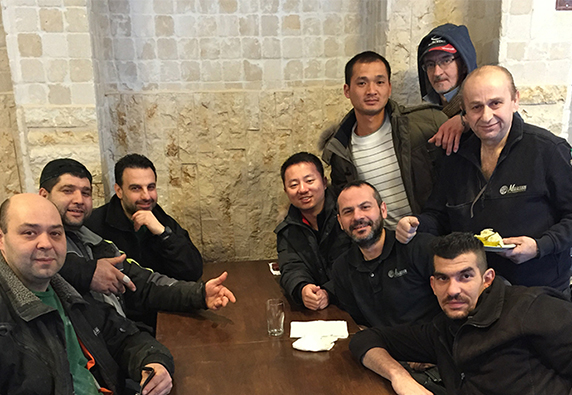 My Blog
sales@wbstone.com
. June 17, 2023
In today's rapidly changing business environment, creating an impressive first impression is crucial. As a leading service provider specializing in custom reception desks, we are committed to delivering high-quality, innovative reception desk solutions for businesses and organizations.
With our extensive experience in the field of custom reception desks, we understand the importance of reception desks in corporate branding and customer experience. Our team consists of designers, engineers, and technical experts who possess exceptional abilities and creativity in designing and manufacturing high-end reception desks. Whether it's a traditional classic style or a modern fashionable design, we can provide tailored solutions based on the client's brand image and requirements.
The first step in our collaboration with clients is to gain a deep understanding of their business needs and brand values. Our professional team works closely with the clients to offer the best solutions through research, discussions, and designs. We pay attention to detail and strive to incorporate the client's brand characteristics and personality into the design of each custom reception desk. We select high-quality materials and employ advanced manufacturing techniques to ensure that each reception desk possesses outstanding quality and durability.
Below are some successful client cases we have completed, showcasing our professional capabilities and innovative designs.
1、Thor white colorful RGB led lighting small personal front reception desk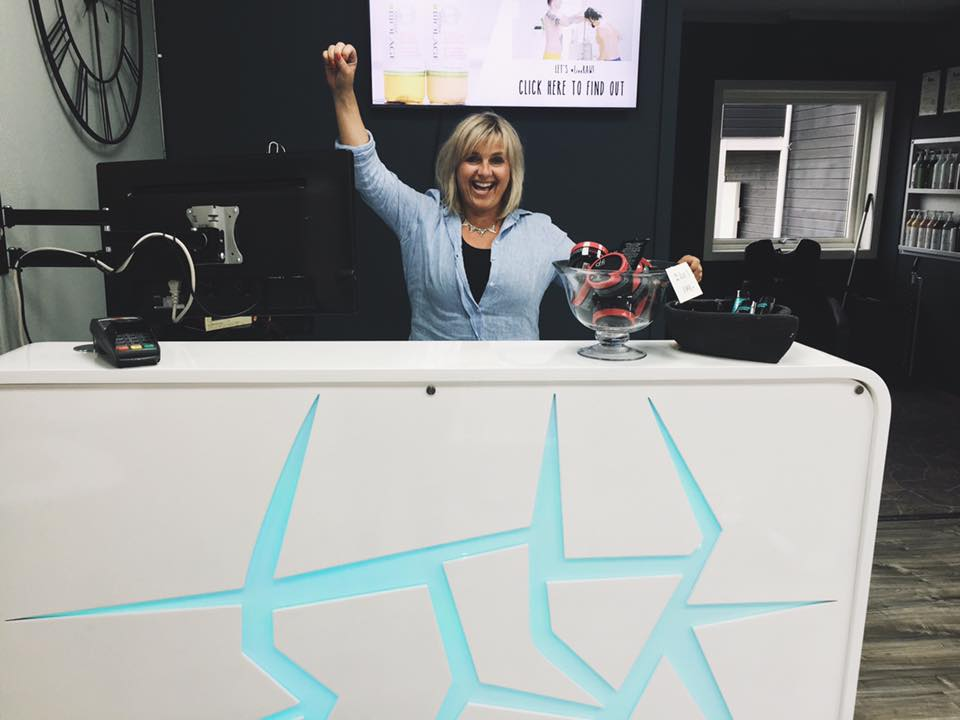 Introduction: Our meticulously designed reception desk features a clean white color scheme, showcasing a modern and stylish style. The unique appearance of this reception desk, adorned with exquisite lightning patterns, injects a touch of vitality and dynamism into the entire space. The white reception desk itself conveys a sense of purity and freshness, offering a comfortable and friendly first impression. The lightning pattern design adds a sense of energy and highlights, combining modern grance with distinctive characteristics.
The reception desk utilizes high-quality materials, ensuring a smooth and delicate surface. The white exterior contrasts sharply with the lightning pattern, making it visually appealing and distinctive. The intricate details of the lightning pattern exhibit fine craftsmanship, with flowing lines that exude fashion and dynamism throughout the reception desk. Additionally, the design of the reception desk takes into consideration practicality and functionality. The spacious workspace provides ample room for receptionists to handle work tasks, while also offering convenient storage space and integrated power outlets to meet various office equipment needs.
2、Conference Table Rectangular Solid Surface Top Stainless Steel Leg
Introduction: Our crafted solid surface conference table is a classic and practical choice suitable for various meeting rooms and business settings. The table is constructed with high-quality solid surface material, combined with a sturdy frame and meticulous craftsmanship to provide durability and superior performance.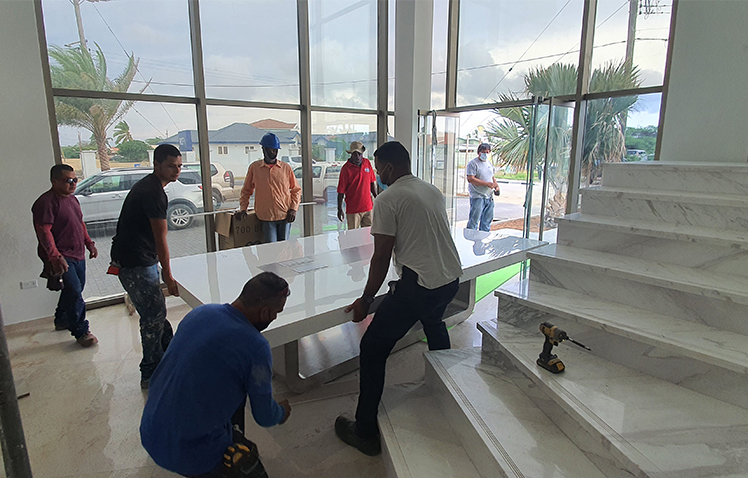 The design of this conference table emphasizes simplicity, style, and functionality. It features a smooth surface, presenting a professional and exquisite appearance. The texture and sheen of the solid surface material give the tabletop a high-quality tactile sensation and visual effect while being easy to clean and maintain.
This conference table offers ample space to accommodate multi-person meetings. The spacious tabletop area can accommodate computers, files, and other necessary work items, enabling participants to engage in discussions and collaborations comfortably. The shape and size of the tabletop can be customized according to client requirements to meet the demands of different occasions.
Furthermore, the conference table can be equipped with practical features and accessories such as integrated power outlets, data interfaces, and cable management systems to facilitate device connections and maintain a tidy and organized tabletop surface.
3、White Wooden Ship Inspired Solid Surface Reception Desk
Introduction: The reception desk showcases a sleek and modern design style. Its uneven top and bottom areas add a sense of dynamism and uniqueness to the entire reception desk visually. The solid wood area is a highlight of the reception desk design, providing a touch of natural and warm ambiance that contrasts distinctly with the white solid surface material.
The white solid surface material of the reception desk gives a clean and minimalist feel while being easy to clean and maintain. The smooth surface of the solid surface material imparts a high-quality texture to the reception desk, making it appear professional and refined in any business environment.
4、White restaurant office salon reception counter desk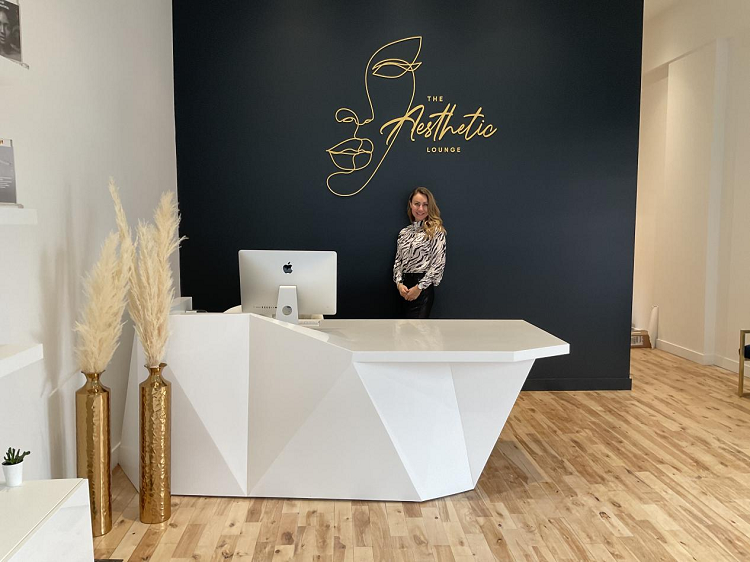 This reception desk adopts a white color tone, creating a bright and clean ambiance. Unlike traditional rectangular or square reception desks, it features an irregular diamond shape, which adds a unique touch.
The irregular diamond shape brings a distinctive visual effect to the reception desk. It breaks away from the conventional lines of reception desks and presents a fashionable and modern feel. This design can attract attention in a commercial environment, making the reception area more eye-catching.
The overall structure of the reception desk is sturdy, providing ample workspace and storage space. Despite its irregular shape, it still meets the needs of receptionists in handling work tasks. The tabletop is smooth and spacious, facilitating the placement of computers, files, and other necessary work items.
The white exterior gives a clean and vibrant impression while creating a sharp contrast with the irregular diamond shape, showcasing a fashionable and modern atmosphere. White also easily complements various interior decorations and color schemes, allowing the reception desk to blend seamlessly into different styles of environments.
5、Professional Solid Surface Imported Materials LOGO Reception Desk Furniture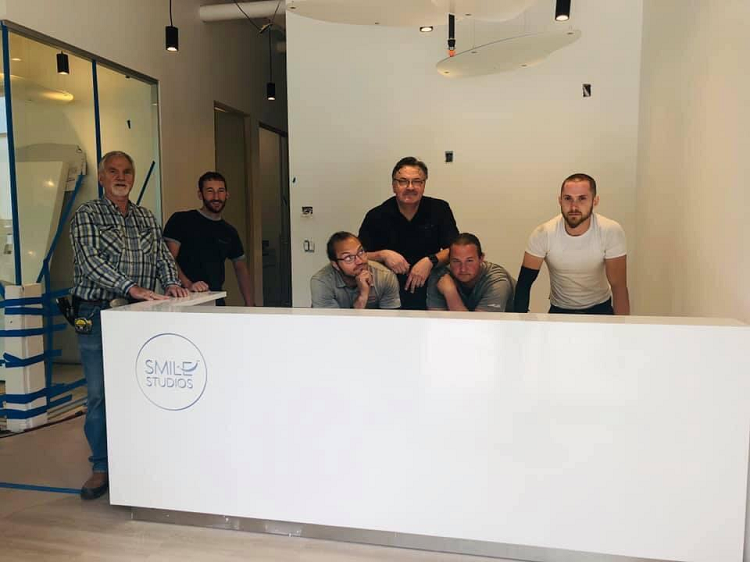 This reception desk features a solid white design, giving a sense of simplicity and brightness. It adopts an L-shaped structure, composed of two interconnected sections perpendicular to each other, providing receptionists with a spacious workspace and an area for client interaction.
The L-shaped design allows for a larger surface area, accommodating multiple people to work and receive visitors simultaneously. Receptionists can carry out office tasks on one longer side while engaging in communication and reception with clients on the other side. This design creates a clear separation between the workspace and the customer interaction area, offering higher work efficiency and customer satisfaction.
The solid white exterior brings a clean and modern feel to the reception desk. The white color tone not only blends with various interior decoration styles but also creates a comfortable and friendly atmosphere, leaving a lasting first impression.
6、Home Wine Wood kitchen mini boat Bar Counter for sale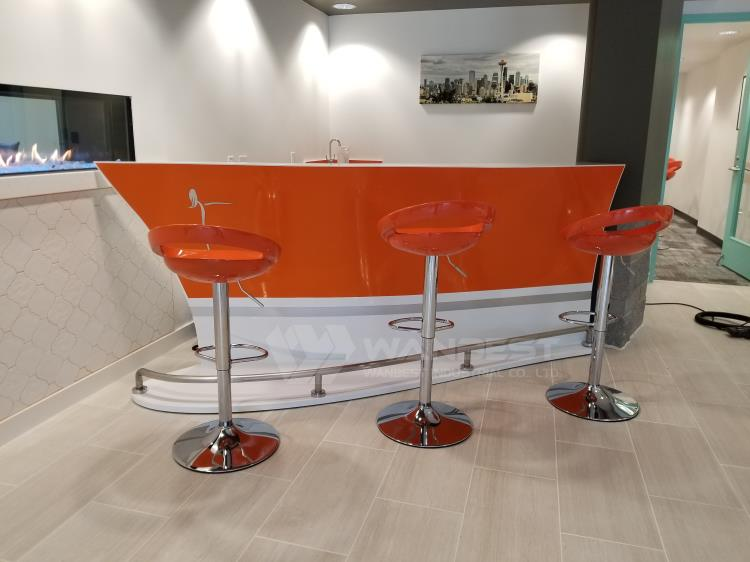 The unique feature of this bar reception desk lies in its shape, resembling that of a ship. The overall design resembles an elegant vessel, creating a distinct feeling. Such a design creates a unique atmosphere for the bar, resonating with grance of the ocean and navigation.
The reception desk adopts curved contours, with the front part resembling the bow of a ship and the rear slightly upturned, evoking the image of a vessel sailing on water. This streamlined design gives the entire reception desk an elegant and dynamic appearance, imparting a sense of smoothness.
Bar reception desks typically utilize captivating colors and materials, such as sleek glossy surfaces that may be made of metal, glass, or high-gloss paint. The choice of these materials and colors can be determined based on the overall style and décor of the bar, aiming to achieve visual appeal and uniqueness.
7、Solid Surface Beauty LOGO Salon Company Office Reception desk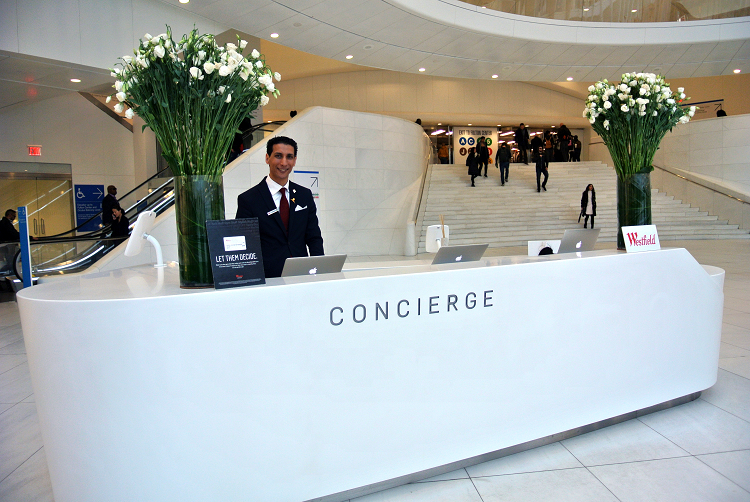 The overall shape of this reception desk is rectangular, with semi-circular designs added to both ends. This design creates soft curves on the sides of the reception desk, contrasting with the traditional rectangular shape and giving the entire desk a more streamlined and unique appearance.
The two semi-circular designs on the ends of the reception desk introduce rounded curves, enhancing the visual appeal of the desk. This design not only adds uniqueness to the reception desk but also provides additional workspace or display areas. These semi-circular sections can be utilized for placing documents, product samples, or as display areas to cater to different needs.
The reception desk features a sturdy and durable overall structure, providing ample workspace and storage space. The desktop is flat and spacious, suitable for accommodating computers, files, and other necessary work items. Embedded power outlets and cable management systems can be added above the reception desk, based on specific requirements, to facilitate device connectivity and cable organization.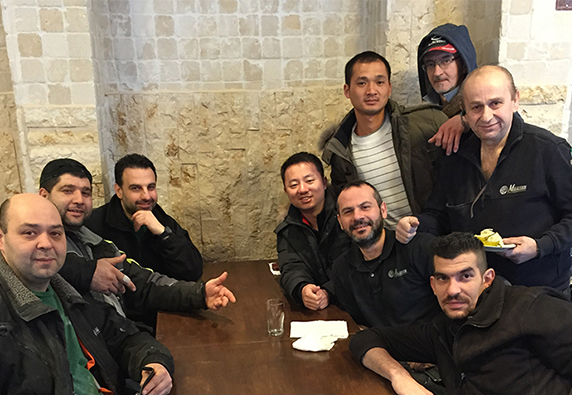 These client cases are just a small portion of our successful projects. Through collaborations with clients from various industries, we continuously enhance our design and manufacturing capabilities to provide satisfactory solutions. We are committed to exceeding client expectations, creating unforgettable reception desk experiences, and helping them shape successful brand images.
If you are seeking a professional, innovative, and reliable provider of customized reception desk services, we are the ideal choice for you. Please contact our team and let us work together to create a unique reception desk that elevates your corporate image and enhances customer experiences.
No matter what your requirements may be, we are dedicated to providing you with the best-customized reception desk solutions!